McDonald Wholesale Co. is a great place to work!
We're proud of our team and their contributions. Our employees are valued, respected and appreciated for their professionalism, skills, knowledge and the diverse backgrounds they bring to McDonald Wholesale.
We provide an environment that supports employee growth and a place where individuals can still make a difference and be recognized.
Our employees are loyal and dedicated. This is evident in the fact that a large percentage of our employees have worked their way up in the company and many of our employees have 10 years or more of service.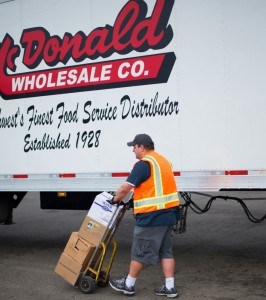 Current Open Positions
Job Title
Location
Description

Class A - CDL Delivery Driver

Eugene

Drivers deliver and off-load food and other products using hand-truck, electric pallet jack and lift gate to a variety of establishments including schools, hospitals, restaurants, taverns, etc., ensuring that the correct products are delivered to each customer, meeting delivery deadlines, and collecting monies according to delivery paperwork. Drivers ensure the safe handling and security of all products according to the Company's Food Safety and Food Defense programs. Drivers must be prepared to work in any traffic and weather conditions. This position is within the collective bargaining unit. We offer competitive wages along with a full benefit package that includes medical, dental, optical, life insurance, and a generous 401K plan.

View Job
Apply

Sales Representative

SW Portland Metro Area

The District Sales Representative role is responsible for generating and maintaining their own set of customers through strong customer relationships and for growing territory sales through account penetration, and opening new accounts in their Sales Territory while helping our customers to be successful in their own business. Position includes selling food products to restaurants and other businesses. Constant communication with the District Sales Manager is required. This is an exempt status, non-union position and paid a monthly base plus commission.

View Job
Apply

Multi-Unit Sales Representative

Portland

The Multi-Unit Sales Representative role is responsible for all interaction with assigned multi-unit customers (such as chain stores, restaurants, hotels, etc.) from soliciting new business to ongoing customer support with our current customers.

View Job
Apply
What do we look for in future employees?
Along with meeting the qualifications and having the skills and ability to perform the essential functions of the position, we look for candidates who are cooperative and helpful towards fellow employees and who promote a safe, positive and caring work environment. We also look for candidates who strive to continuously learn to improve their skills and be productive team members.
We are proud to be Oregon's largest independent foodservice provider.  We are an equal opportunity employer and do not discriminate on the basis of race, religion, color, sex, age, national origin, disability, veteran status, or any other classification protected by law.
In compliance with federal law, all persons hired will be required to verify identity and eligibility to work in the United States and to complete the required employment verification document form upon hire.
The company will make every effort to meet a request for disability accommodations.  If you require accommodation to participate in our application process please contact Human Resources at 541-345-8421.
See current open positions to be part of the McDonald Wholesale Co. team!
McDonald Wholesale Co. offers a full benefit package that includes:
Competitive Wages
Paid vacation, sick leave, holidays
Medical, dental and vision insurance
Retirement Plans